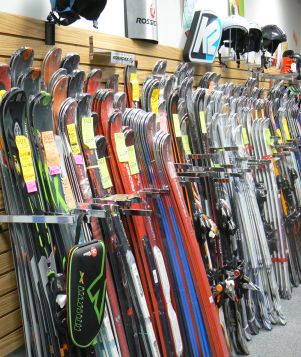 GREAT SELECTION - We've got new and used skis and boots in every imaginable size (OK, maybe there's no size 18 for Shaque O'Neal). And, trade-Ins are always welcome.
CHOICES, CHOICES, CHOICES - Buy a new or used pair of Skis. We have Daily Ski Rental and Season Leases for kids and Adults. What's your pleasure? We've got it all.
GREAT SERVICE (They promise... But, we always deliver) - We're Expert Boot Fitters with many years of experience so our customers always leave with happy feet.
TOP SHELF MAINTENANCE - Our professional Grind-Rite Belt/Stone machine, Wintersteiger Edger, and Hot Waxer will expertly tune your skis to a tee. There are never any "trained-yesterday" staff in our backshop. We only allow experienced hands to touch your skis.
SKI ACCESSORIES - We've got a wide selection of Pants, Jackets, Underwear, Helmets, Goggles, Hats, Socks, Gloves, and Car Racks. All you need to hit the slopes in warmth and comfort. Check out our Clothing and Ski Accessories pages.
Our Service Area
We service the following cities and towns in Greater Boston MA:
East Watertown, Watertown MA, Watertown Nonantum, Newton MA, West Newton, Wellesley, Wellesley Hills, East Boston, Boston MA, Waban, Brookline, Jamaica Plain, Roslindale, West Roxbury, Needham, Needham Heights, Belmont, Belmont Station, Arlington, East Arlington, Arlington Heights, Framingham, Natick, Waltham, Waltham Bemis, Waltham Highlands, Waltham Riverview, Cambridge, East Cambridge, Wellesley, Wellesley Station, Weston, Somerville, East Somerville, Lincoln, Lexington


"Boston's Best Discounter"
Centre Ski & Bike
Skis
Our Promise
The perfect skis for you at a price that will make you smile. See why we're listed in "Mr. Cheap's Boston."
BRANDS
K-2 ٭ Rossignol
Nordica ٭ Atomic