"Boston's Best Discounter"
Centre Ski & Bike
Bikes
New Bikes
With more than 100 built bicycles on the floor, we offer a wide variety of:
Road Bikes

Hybrid Bikes

Mountain Bikes

Comfort Bikes

BMX Bikes

Cruiser Bikes

Kids Bikes
Talk Bicycles To Us
So, what's your bicycle ride? Or, what bicycle ride do you want?
Whether it's pedaling your bike for exercise, commuting through city streets, cruising country roads, ripping up bike ramps, or blasting down bike singletrack, the Centre Ski & Bike Shop has the right bike for you.
At Centre Ski & Bike, we're about friendly service first. We enjoy spending time with our customers to help them analyze their needs and aspirations in order to suggest the perfect bike, new or used.




Great Bike Brands
With excellent bike brands like Fuji Bicycles, Diamondback Bicycles, KHS Bicycles, and SE Racing Bikes, our knowledgeable staff has the resources and expertise to help you select the bike to best satisfy your needs.
And, we've also got Norco Bicycles, the Canadian equivalent of Trek hybrid bikes, but with more attractive pricing!
Ever encounter that Bicycle Megastore attitude: "Less than $1,000? Don't bother us!"? At Centre Ski & Bike, we've got lots of great bike choices to suit any budget, including refurbished used bikes.
Bike Accessories
We also offer a complete selection of bike accessories to make any bicycle complete and add to your riding enjoyment.
At your pleasure, we'll gladly walk you through the choices of bike and car racks, lights, bottle cages, bicycle computers, paniers, helmets, tools, saddles, bags, maps, pumps, child seats, etc.
Our Bicycle Service Center
As a full-service bike shop, our Bicycle Service Center offers expert bicycle tune-ups and repairs to keep Mountain bikes, road bikes, and hybrid bikes running in tip-top form. In fact, we can usually have your bike ready to go in just a few days.
Our Service Area
We service the following cities and towns in Greater Boston MA:
Boston, East Boston, South Boston, West Boston MA, Boston North End, Boston Harbor, Boston MA, Boston Waterfront, Boston Massachusetts, Boston Center, Newton, Newton Center, Newton Corner, Newton Highlands, Newton Village, Newton Lower Falls MA, Newton North, Newton South, Newton Upper Falls Massachusetts, Newton MA, West Newton MA, Newton Massachusetts, South Newton MA,Newton Ville, Watertown, East Watertown, West Watertown MA, Watertown Square, Watertown Bemis Massachusetts, Watertown Center Massachusetts, North Watertown, Watertown Brigham MA, Watertown Massachusetts, Watertown MA, Watertown Nonantum, Watertown Warrendale MA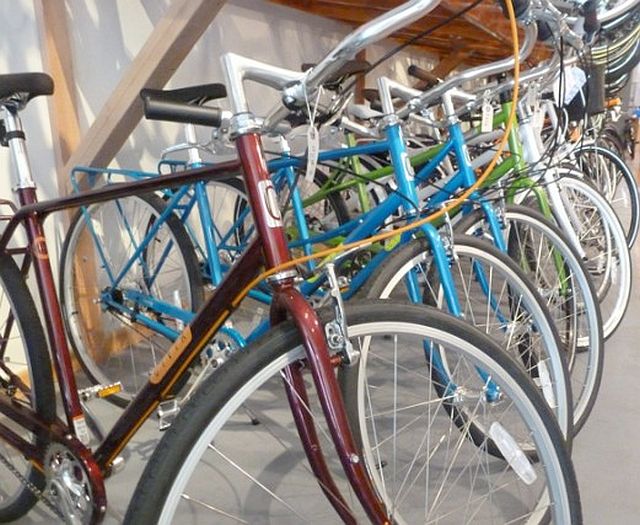 BICYCLE BRANDS
Fuji ٭ Diamondback ٭ KHS
Giro ٭ Norco ٭ Native Eyewear
Bell ٭ SportRack ٭ Saris
Allen ٭ Ryders Eyewear



Bike Rental
Come take a bicycle ride for an afternoon or a day. Our bike shop is just 2 miles from the Riverway bicycle paths alongside the Charles. We have bicycle car racks so you can truck your bicycles there easily and park in the public lot.
Cruise through the Massachusetts towns of Brighton and Allston on the pathways along the Charles River, and you'll see canoes, sailboats, rowing skulls... and all the water traffic. On the riverway path: NO motorized traffic.
If you go all the way to downtown Boston MA (8.5 miles), you'll pass the Boston Hatch Shell (and maybe listen to some music), Boston University, and Harvard. Then, cross the bridge at the Science Museum and bicycle back on the Cambridge side, passing M.I.T. as you return. For a quicker ride, pick any of the other 8 bridges and you will have a shorter loop.
For a longer outing, truck up to the Minuteman Trail (we rent a car rack for this purpose), a former Rail Trail through the countryside passing through Arlington and Lexington, on out to Bedford and beyond. Beautiful countryside, and again: NO motorized traffic. With bike maps, you can calibrate your ride to whatever distance is most enjoyable for you.
We rent young, comfortable, two-wheelers, and provide a helmet, lock, and any words of direction or advice you'd like.
Used Bikes
We offer one of the largest collections, as well as an ever-changing selection, of quality re-conditioned and fully-tuned used adult bikes and used kids bikes. So come on in and snag yourself a used bargain.